Contacting Us
---
Please feel free to telephone for more information. We may not always answer straight away, as this is a working house in the country!
Please leave a message and we will do our utmost to call you back at your convenience. It is always easier to find us at home in the evenings after about 7pm.
Telephone 01746 862 640
Mobile 07977 48 44 97
Address:
New House, Chelmarsh, Shropshire, WV16 6AU
We are very flexible in the way our accommodation works here - we can tailor our service and rates to suit your needs - although self-catering, we can provide meals if and when required. Call us and we'll do our very best to help you.
The apartment has a main bedroom with king sized bed, and second bedroom with double bed. Cost is £60 per night / couple.
Weekly rates run from Fri / Fri and are as follows:
Note: Dates for the 2010-2011 season. 2010 dates may be slightly different.
Winter - £240
6th Jan-19th Feb, 26th Feb-2nd April, 29th Oct-21 Dec
Low - £270
19th Feb-26th Feb, 2nd April-9th April, 1 oct-22nd Oct
Mid - £350
30th Apr-28th May, 4th June-25th Jun, 3rd Sep-24th Sep
High - £395
16th Apr-23 Apr, 9th Jul-16th Jul
Peak - £395
28th May-4th Jun, 23 July-30th Jul, 13th Aug-27th Aug, 30 July- 13th Aug, 21Dec-28 Dec, 28 Dec-4th Jan
Weekend Short Breaks
80% of weekly rate
Arrive friday pm, leave Sun am (Only available in off-season or as last minute bookings - check for availability)
Call us to discuss special rates for weekend stays, or group bookings.
Please note that this is a no-smoking property.
Pets are welcome, but guests are asked to please ensure that muddy paws are cleaned thoroughly before allowing them on our carpets! Towels and cloths for cleaning are freely available.
Basics (Tea, coffee, etc) are provided in the apartment's kitchen, and meals can be provided by arrangement - many train photographers prefer lunch in the fields. In good weather you can barbeque on the terrace whilst taking photos of the trains!
In summer we often organise a barbeque in the evening, overlooking the railway.
Horses are welcome - we charge £10 per night for each horse, including shavings and hay, plus daily turnout. Boxes are 12x12 size, and we have one with rubber matting.
For more information see:
---
About Us
---
Peter has spent most of his life working in the worlds gold mining industry...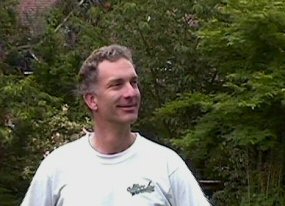 ...early years spent working with horses, a farm contracting business started whilst at university, and a passion for underground have given Peter some unique experiences in life. He moved to Australia in 1982, worked underground as a mine geologist, began pegging his own mining leases and floating companies on the stock exchange. He started a software development company after spending 3 years living with the Cossacks in the remote Altai Mountains of northwestern China - where they mined gems - Aquamarine, Tourmaline, Alexandrite, Topaz, and many more - together with gold.
... the move back to England was prompted by the opportunity to restore an old farmhouse in Shropshire - four years on, a dream is coming to life. There is still much to do - a project like this is never finished. Peter also restores houses for clients - generally working on properties over 100 years old. In his occasional spare time, he gets to work his horses, make cider, and build his collection of minerals and crystals from mines all over the world...his favourites being campylite, sphalerite, barite and calcite from mines in Cumbria and Yorkshire.
...And then there's The Dog...
Totally mad, like most collies. Addicted to racing trains and rounding up horses. Needs objects thrown long distances for her to retrieve, preferably through deep mud or water. Does not know the meaning of 'Slow Down' or 'Stop' and the only dog known to date to stop a train in its tracks and live to tell the tale...tail...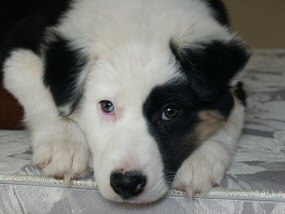 Cute eh? @@@ ?%$$ Ackshully I think Peter (the Boss) is a waiter created by Muther Nature to feed Dogkind... yeh... I can rite these websites too... I've spent enuf hours sitting watching this flippin compusher thing and catching the peenuts he drops off the deshk and all i have to do is bash these silly butons wiv my paws heh heh . Wait til he sees the dog online...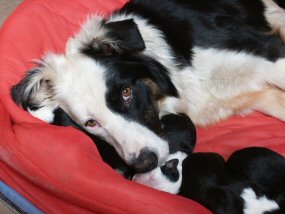 They don't tell you wot happens when you meet a reely cool collie dog from down the road...... 7 little versions of me appeared one day...

---