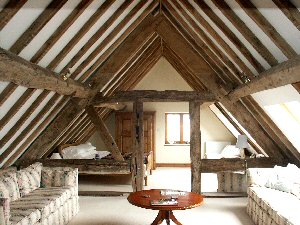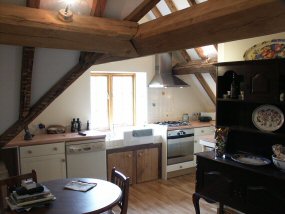 Please note that this is a non-smoking property.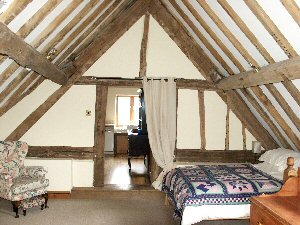 Pets are welcome, but guests are asked to please ensure that muddy paws are cleaned thoroughly before allowing them on our carpets! Towels and cloths for cleaning are freely available.
The apartment has a main bedroom and sitting room (left), kitchen (below left) bathroom with shower, and a second bedroom / sitting room (bottom left). Access is via outside stairs from the guest parking area, and views from all of the windows are simply stunning.
Guests can roam the farm, or walk down to the river and stroll to the pub at Hampton Loade, next to the SVR railway station. There's yachting and dingy racing at the Chelmarsh reservoir about 200 yards above the house, and long walks in the woods at Dudmaston, just over the river. In summer we've a great swimming hole in the river. The Ironbridge Gorge Museum is a 25 minute drive.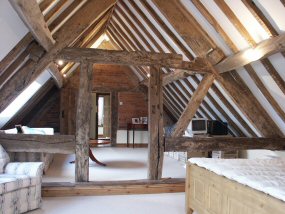 Cyclists are welcome - we have wash-down and storage facilities, and the National Cycle Route 45 runs only a few yards from the house.
If you need any washing done during your stay, we are happy to oblige.
We have wireless internet access shold you need it.
Fishermen can store and clean their tack in the stable block. A fridge is provided for bait.
Note:
Access to the apartment is via an ouside staircase and balcony, which although wide and easy to climb, may not be suitable for disabled or elderly people. If in doubt, please call to discuss!