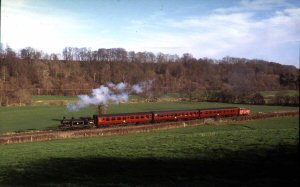 As a child, I remember my first trip to London - and being terrified when a huge spurt of steam clouded the platform next to me... a few years later, the image of a derailed and smoking train lying on its side in 'Lawrence of Arabia' was equally scarey. I'm a bit more comfortable with steam now - in Australia we actually used a small steam winder on one of the gold mines I worked on. All gone now though, more's the pity.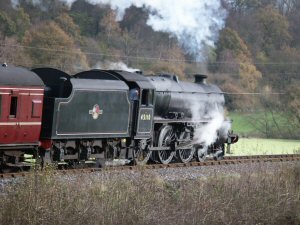 Exclusive DVD's of the SVR - For Sale...
Produced by Phil Croutear, there are two DVDs available:
SVR 40th Anniversary Autumn Steam Gala 2005
This has a running time of 90 mins, and features 13 separate locomotives, inluding Bradley Manor - featured in the film Chronicles of Narnia.
Mainline Steam Miscellany - 2001-2005
A fascinating collection of historic locomotives filmed all over the British Isles, and including Flying Scotsman, Union of South Africa, City of Truro and many others. Fascinating footage of engines in tandem working the Lickey Incline This DVD is truly a labour of love from a superb photographer.
To purchase these, cost £12.00 each + p&p email Phil directly:
I could never claim to be a train expert, so will be content to provide some photos of these amazing pieces of machinery - thanks for some of these must go to Martin Creese (who runs photo charters) and Phil Croutear (who has produced 2 DVDs of the railway, and spends many happy hours based here with his cameras).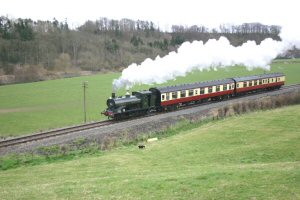 I have the somewhat dubious pleasure of owning two horses and a mad collie dog who take great delight in racing the trains as they come up the valley. I'm sure many visitors will have seen a chestnut thoroughbred and white Andalusian stallion galloping alongside the embankment and then tearing off up the hill - at least it saves me from having to exercise them!